Welcome to Reannag Teine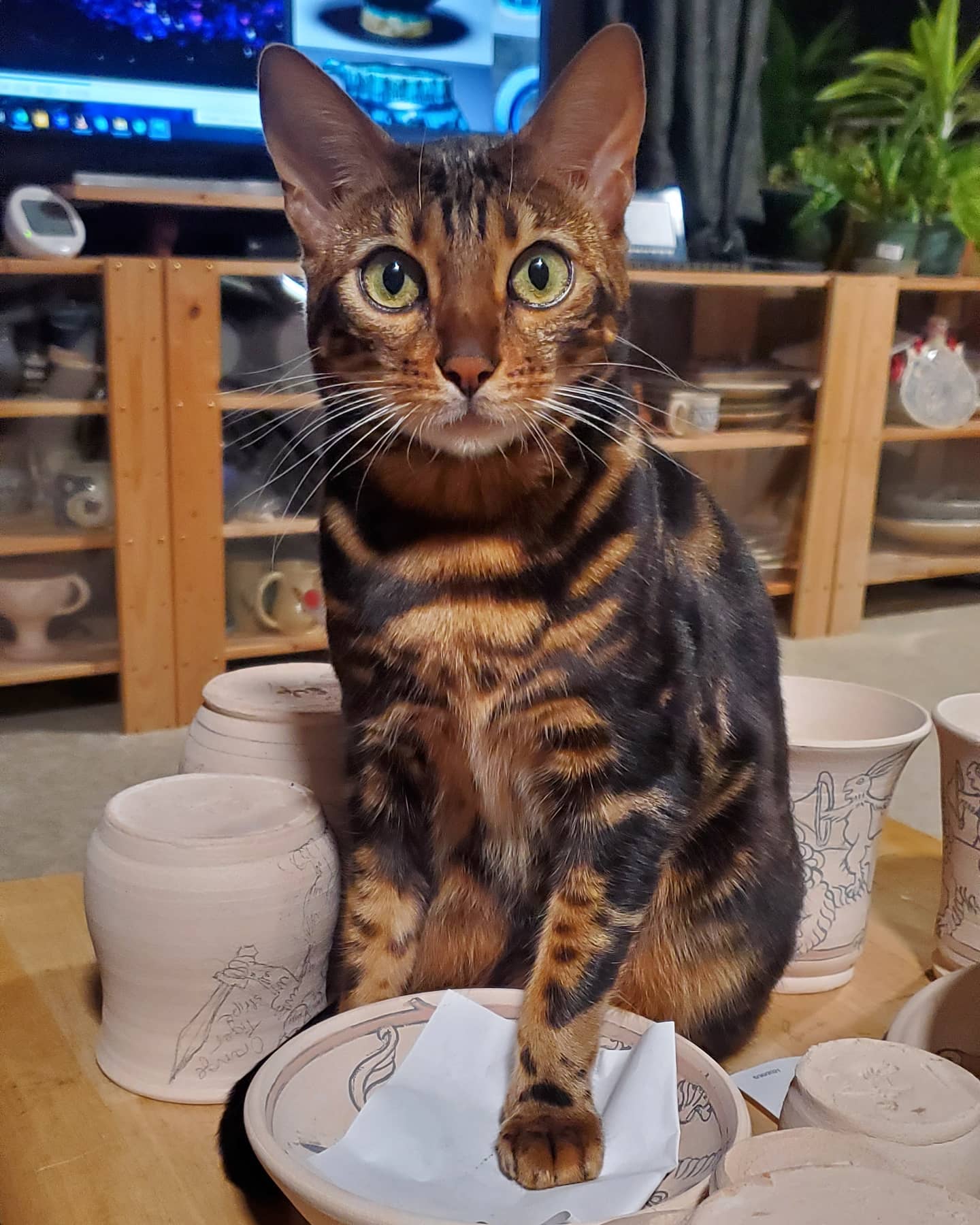 Islamic, Greek, or Italian Renaissance... skulls or Viking kitties, we are devoted to creating unique pieces of historically inspired ceramic art--a touch of the unique you can use all the time. Hand-thrown and hand-painted yet safe for food, dishwasher, microwave, and oven. Reannag Teine, gaelic for "star fire" in reference to the heat of the kilns, is a mother-daughter team with six degrees and a myriad of art awards between them... and a healthy amount of humor to bring it all together. All the designs are drawn free-hand and hand-painted onto the hand-thrown pottery—no stencils used: beauty for everyday use. More than that, we welcome custom orders. Coats of arms, business logos, or unique design requests, we enjoy creating the piece to fill the need. In addition to making pottery, we make game sets, dice, replica weights & beads, SCA coloring books, & produce designs for pewter, t-shirts, & custom graphics. As we are always developing new design and items, if there's anything you have seem on our social medias feeds or in-person but don't see on the website, just email to start an order for it.
Follow us on Facebook to see what we are up to. Watch us on YouTube or Twitch—remember to click subscribe, bell, & follow buttons. Inspired to look for pottery tools? We also have content on Instagram and occasionally even Twitter... even check out our Pinterest page. Ask us questions; our degrees are in both art and education. Here's a list of Frequently Asked Questions. If you contact us and don't get a response from us within a week, please try to contact us again. Sometimes emails and messages get lost—and we cannot send replies to a anonymized emails, like outlook_(alphanumberic.code)@outlook.com; if your email app sends with this, please resend your email from another address.
We are always working on the website. If you come across an issue & refreshing doesn't fix it (we may be actively updating that page), please email us with which page, the issue, & your browser/OS combo so we can try to fix it. Thank you for your patience.